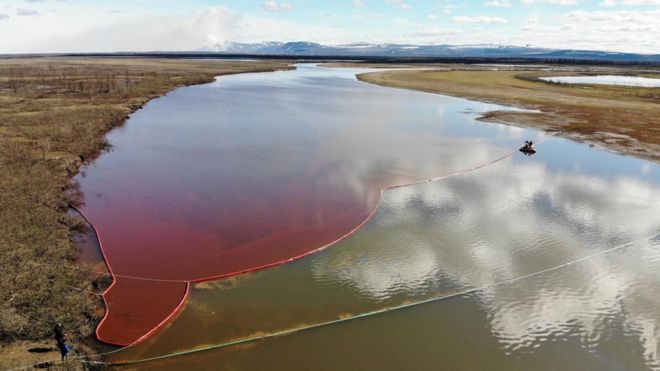 "Russia's President Vladimir Putin has declared a state of emergency after 20,000 tonnes of diesel oil leaked into a river within the Arctic Circle.
The spill happened when a fuel tank at a power plant near the Siberian city of Norilsk collapsed last Friday.
The power plant's director Vyacheslav Starostin has been taken into custody until 31 July, but not yet charged.
The plant is owned by a subsidiary of Norilsk Nickel, which is the world's leading nickel and palladium producer.
The Russian Investigative Committee (SK) has launched a criminal case over the pollution and alleged negligence, as there was reportedly a two-day delay in informing the Moscow authorities about the spill.
Ground subsidence beneath the fuel storage tanks is believed to have caused the spill. Arctic permafrost has been melting in exceptionally warm weather for this time of year.
President Putin expressed anger after discovering officials only learnt about the incident on Sunday." – BBC, Read the full article here.
'With each new border and political shift, the indigenous women of Chukotka, Russia adjust to maintain their heritage and survive.'
"Elizaveta is Siberian Yupik and was born in 1942 in the village of Naukan, Chukotka, on the edge of the Bering Sea. She lived there until 1949. When she was seven years old her family moved about 50 miles away to Lavrentiya. Naukan remained her summer home until 1958 when the Soviet authorities closed the village. They explained that Naukan was not a good place to build modern houses and that it was not healthy to live in yurangas, traditional tents. In the summer of 1958, the usual supply ship with food and coal did not come, and within two months Naukan was closed and its people banned from returning.
At that time, Elizaveta remembers her great uncle saying "If they close Naukan, we will lose our language." "Now," she told me, "that is what has happened … My grandchildren do not speak it." Yet 60 years after that relocation Yiakunneun lives on, hidden in a special place in this apartment, just as she would have been hidden in the yuranga generations ago. I wonder where she will be generations from now, who will look after her, and what a Yupik home will look like by then." – Jennifer Kingsley, 2019. Read the full article here.